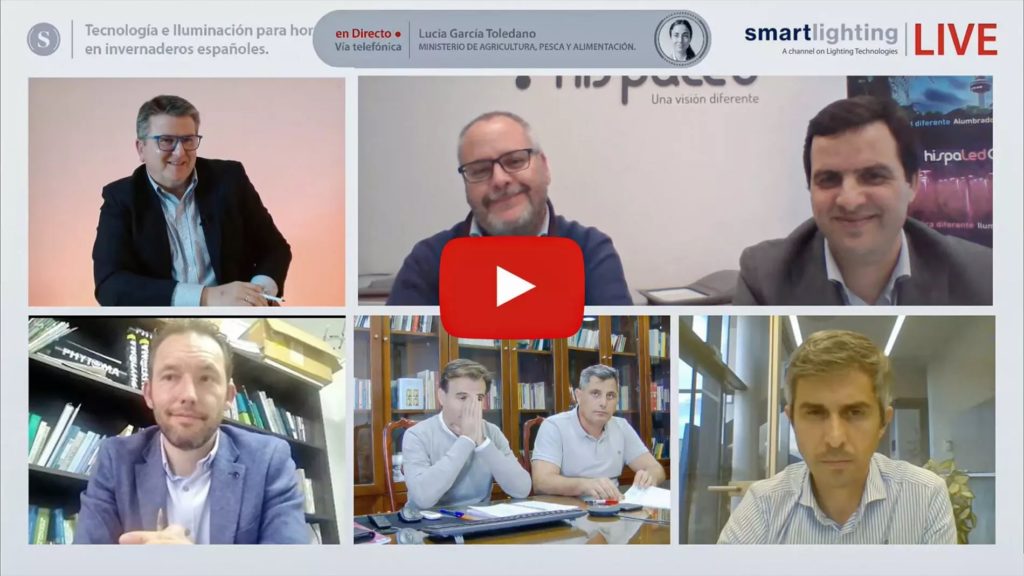 "With Hispaled's new LED lighting installation we have managed to increase production by 2.5 times".
On 31 March we took part in the smartlighting LIVE programme, this time focusing on the topic of technology and lighting for horticulture in greenhouses.
The programme aimed to highlight the technological advances in lighting and other technologies in current greenhouses in Spain. The common thread was the pilot project carried out for Agrosol in the town of Retamar, within the Hispaled division of SmartGrow. Alex López and Jorge Fraile, technical manager and CEO respectively, participated on behalf of Hispaled. We were accompanied by Lorenzo Dini, Regional Sales Manager EMEA South at CREE LED; Jose Ángel Amat and Andrés Romero, partners-managers of AGROSOL; Rubén Moratiel, professor and technical coordinator at CEIGRAM; Juan Pardo, head of the technical department at NOVAGRIC. Lucia García Toledano from the General Directorate of Agricultural Production and Markets of the Ministry of Agriculture, Fisheries and Food also took part in an interview.
The programme deals with the advancement of innovation in LED lighting solutions for horticulture in order to achieve maximum similarity of the spectral curve reproduction of sunlight and on the other hand energy efficiency, which together with the growing awareness among growers translates into a very important boost for the market. LED technology shows immense potential from a technological point of view, mainly due to low energy consumption, cool operation and the ability to customise the spectral output of emission of specific wavelengths used by plants for growth.