RFlight2:

A different city

HISPALED's RFLight2 is one of the most advanced remote management systems for public lighting on the market. From RFLight2 Web you can control, through a simple and intuitive interface, both the luminaires and the Control Centres of any installation. With this, resources are efficiently used to the maximum, maintenance costs are reduced and a better quality of the municipality's lighting is guaranteed, with individualised control of the lighting points and electrical panels.

RFlight2 System
> Nodes for luminaire Node RFLight2 Node
> RFLight2Header Monitoring Header RFLight2 Header
> RFLight2Gateway Gateway
> Installation and Inventory App RFLight2 Geo
> RFLight2Web Platform for Lighting Management RFLight2 Web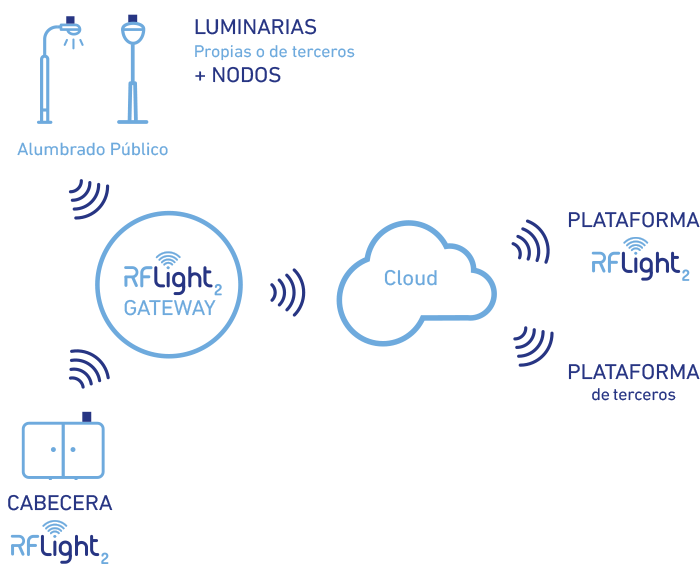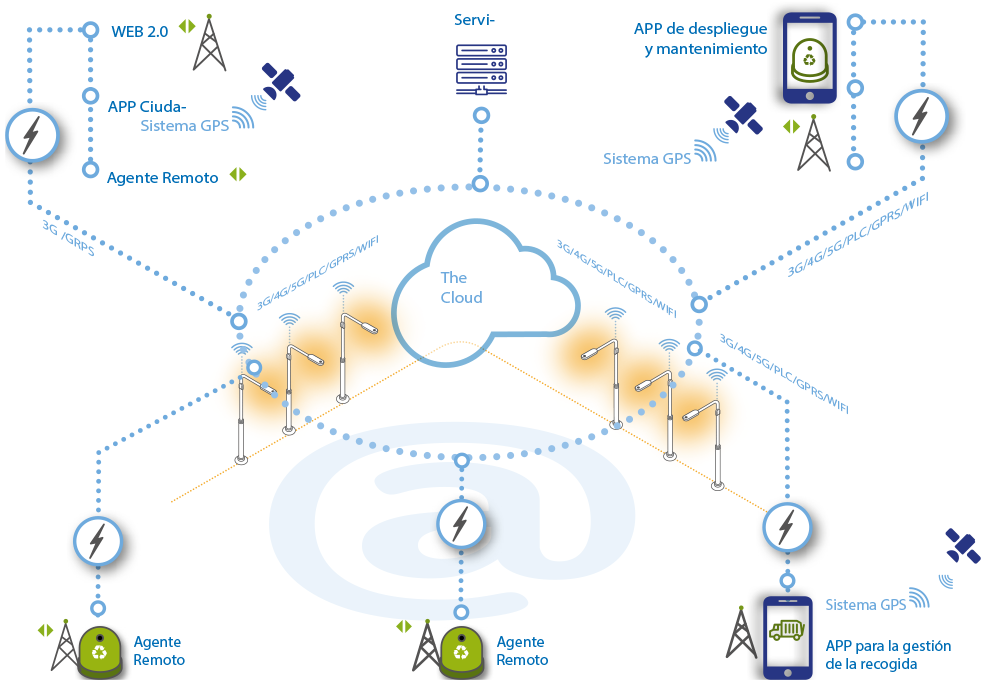 RFLight2 is Hispaled's connectivity solution for the remote control and optimization of lighting networks through point-to-point remote management.
RFLight2 allows the remote management of luminaires from HISPALED and other manufacturers. Our open system can be integrated into any lighting management web platform.
RFLight2 allows the remote management of control centres and luminaires, both from HISPALED and from other manufacturers, and is integrated in any web platform, its own or from third parties, from which to operate on the lighting panels and luminaires point to point, reporting information, allowing the integral management and control of the lighting system.
The mesh network formed by the luminaires serves as a communications platform to be used in other citizen services such as: garbage collection, pollution measurement stations, park and garden irrigation systems, video surveillance cameras, parking space management, etc.
The luminaires form a communication network where each luminaire is a node in the network. Each of these nodes is able to send or receive information to any point.

NODES THAT CAN BE INTEGRATED

INTO ANY LIGHTING INSTALLATION
TECHNOLOGIES: RADIO FREQUENCY (LoRa) - NARROW BAND - GPRS - PLC
Hispaled's RFLight2 nodes for Public Lighting luminaires incorporate the most advanced communication technologies: Radiofrequency, Narrow Band, 3G/4G, PLC, etc... which allows us to adapt to any technical solution required by the municipality.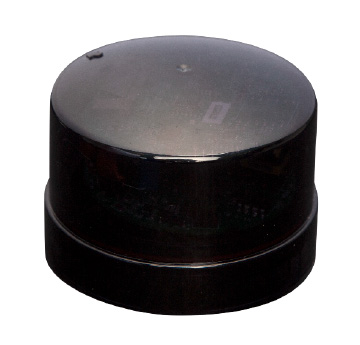 EXTERNAL NODES:
NEMA
The RFLight2 NEMA external node is available in 5 and 7 pins. Compatible with the ANSI C136.41 standard, it is widely accepted for its compatibility with photocell type dimming equipment, which has been present all over the world for decades. That is why it is one of the most widespread formats nowadays.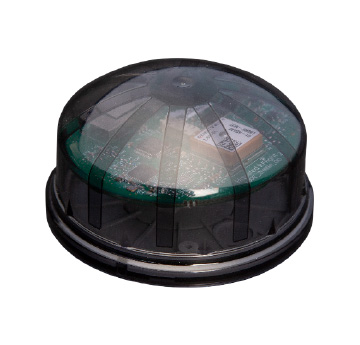 EXTERNAL NODES:
ZHAGA
The RFLight2 ZHAGA external node, Book 18 specification, is the most current compatible format on the market, and possibly the most widely used in newly manufactured luminaires, due to its simplicity and specific design for the control of lighting equipment.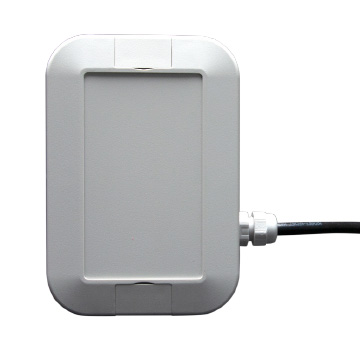 EXTERNAL NODES:
BOX
The RFLight2 external node in Box format allows installation in any luminaire on the market. It is installed on the support of the streetlight by means of a clamp supplied with the product, and allows the power supply to be wired inside the luminaire, without the luminaire necessarily having a NEMA or ZHAGA receptacle.
CHARACTERISTICS OF THE NODES
Luminaire uptime.
- Actual consumption of the luminaire (DC or AC).
- Alarms/Notifications via email/SMS:
- Luminaire failure (light source,
LED driver/ballast, input current).
- Consumption error (over or under consumption).
- Overheating.
- Date and time:
Stored in the node or synchronized by GPS.
- OTAP (Over the Air Programming) firmware update.
- Concentrator Device (AP) for every 500 to 1000 nodes.
- Communication with luminaires via Radio (LoRa).
- Communication with the cloud via: GRPS/3G/4G/WiFi/Fiber/Ethernet.
- Integrable in third party WEB platforms, via public API (Programming Interface).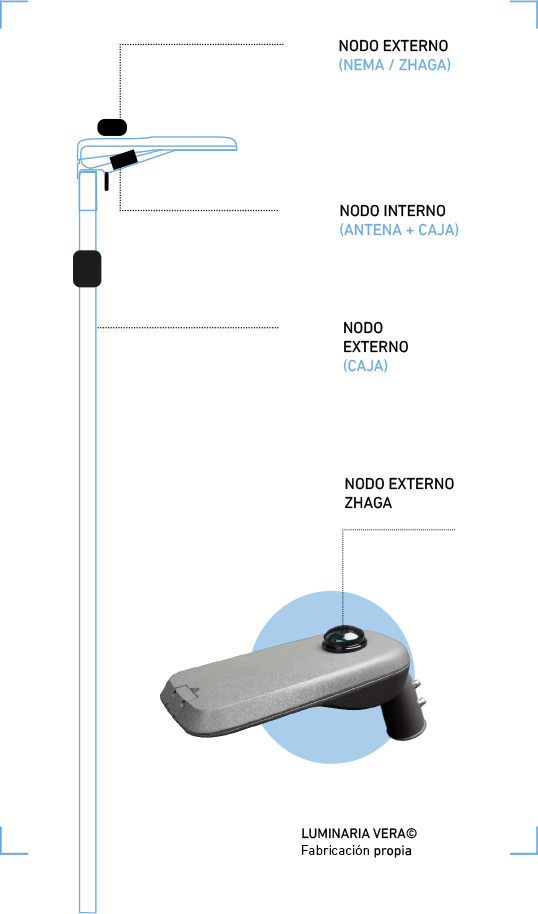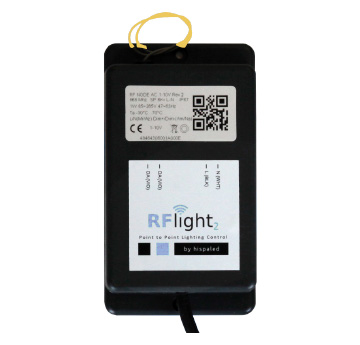 INTERNAL NODE
The RFlight2 internal node is the compact version designed to be installed inside the luminaire. It is powered directly by 12-24V DC voltage. As it is a radio system, it is necessary to install an antenna in the luminaire.
RFlight2 HEADQUARTERS:

MONITORING AND CONTROL OF CONTROL CENTRES

The RFLight2 headend is Hispaled's remote management and monitoring equipment for public lighting panels. It allows to control remotely, from the RFLight2 platform, or other third-party platforms, the control centers of the municipality's facilities.

The application has elements for management, control and monitoring of consumption signals, control of panel signals (open door, signal sensitivity control sensors, circuit breaker tripping, etc.).

RFLight2 Header offers a set of graphs of the main parameters of each Control Centre, both in real time and in history by customised intervals. In the same way, from the RFLight2 platform, all types of alarms are indicated in a control panel: excess consumption, service interruption, mains disconnection, open door, voltage or current levels higher than those defined by the user, circuit sensitivity, etc.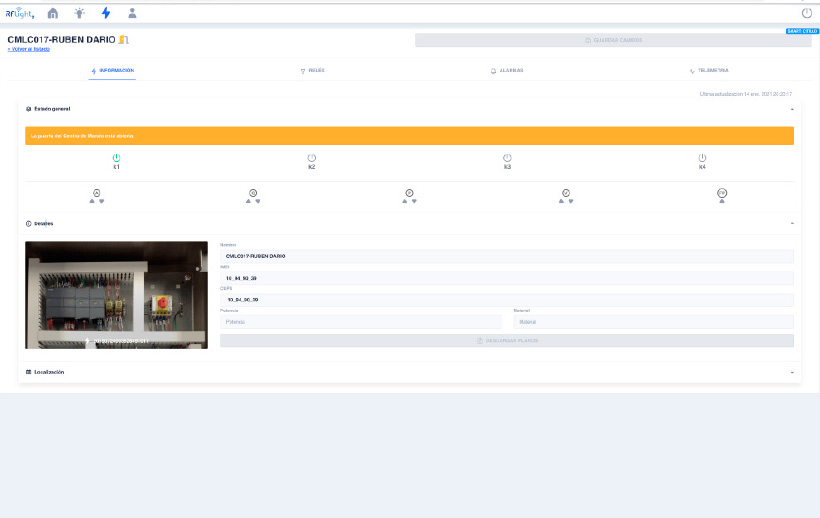 TECHNICAL CHARACTERISTICS OF THE RFLIGHT2 HEADEND
The control centres regulate the switching on and off of the luminaires, and are also the billing point for the electricity company. The RFLight2 head-end integrates all the measurement and control elements of the Control Centre, as well as the alarms defined by each user, and their level of communication.
DIMENSIONS:
196x91x60 mm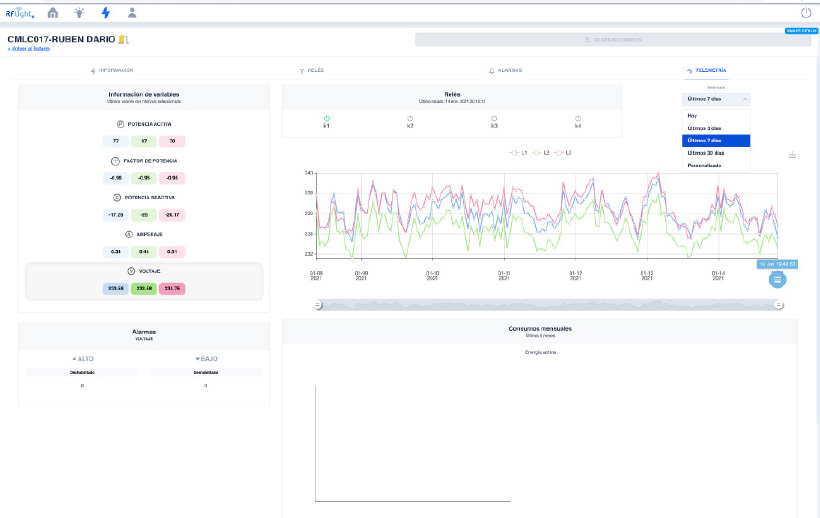 CHARACTERISTICS:
- Built-in network analyzer.
- 4 relay outputs
- 4 AC voltage sensors for circuit supervision.
- 1 digital input.
- 1 RS-485 interface and 1 optoisolated RS-485 interface.
- Ethernet, Bluetooth, WiFi, GPRS/3g, GPS communication interfaces.
- Power supply included.
- DIN rail format.
- Antenna for communications, standard or vandal-proof version.
- Integration with third-party measurement and management equipment.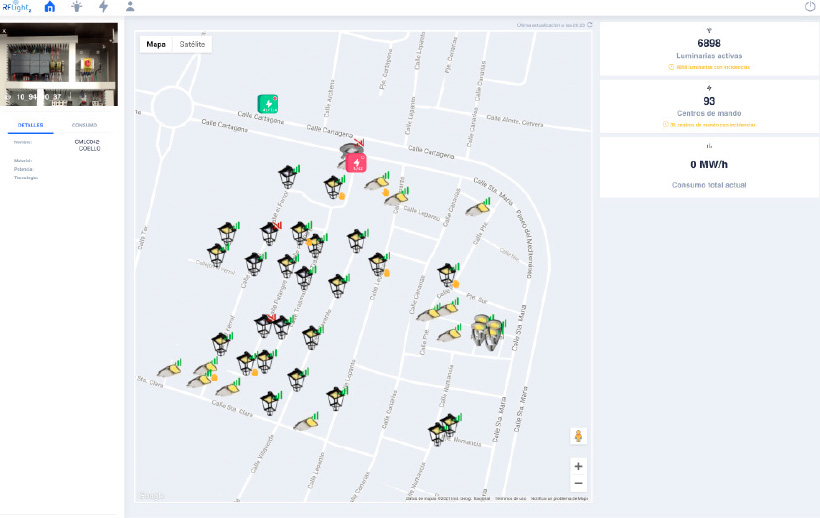 FUNCTIONALITIES:
- Grouping of panels.
- Status and remote control of circuits.
- Alarms for 100% of the parameters, for switching on and off out of schedule.
- Management of profiles and calendars.
- Real time consumption.
- Consumption history.
- Power factor.
- Intensity peaks.
- Open door sensor.
- Cable theft.
- Leakage currents, etc.
SOFTWARE:

INTUITIVELY DESIGNED PLATFORM ADAPTED TO ANY DEVICE

RFlight2 allows the remote management of HISPALED luminaires, as well as those of other manufacturers, and integrates into any web platform, either its own or third party, from which to operate on the lighting panels and luminaires point to point, with endless possibilities, reporting information in real time.
RFLIGHT2:

ALLOWS REMOTE CONTROL FROM A SINGLE ENTRY POINT

The RFLight2 software platform allows the integral management of the Public Lighting of the municipality, both of the luminaires and of the Control Centres. From a single point of entry, it manages the registration of lighting points, inventory, management of elements, user configuration, configurable reports and maintenance of the installation.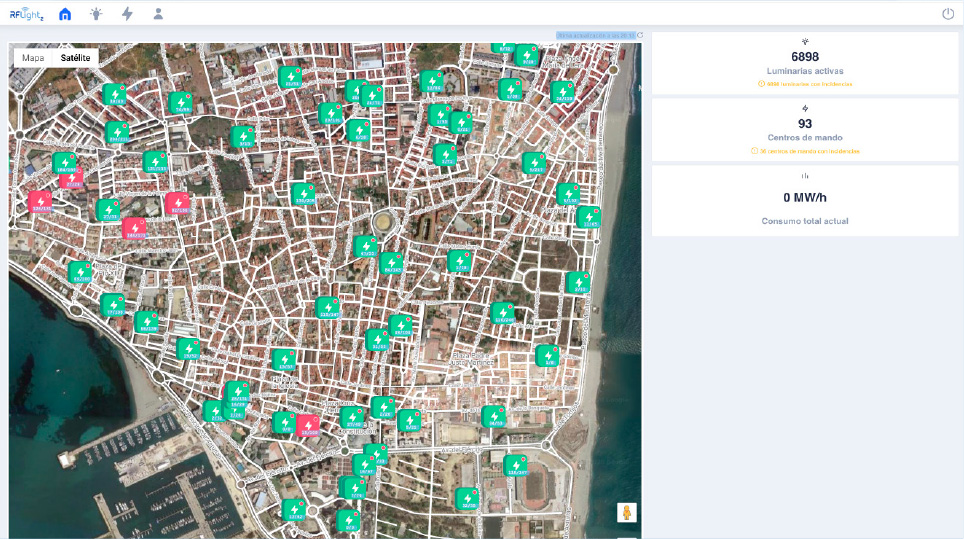 Installation Overview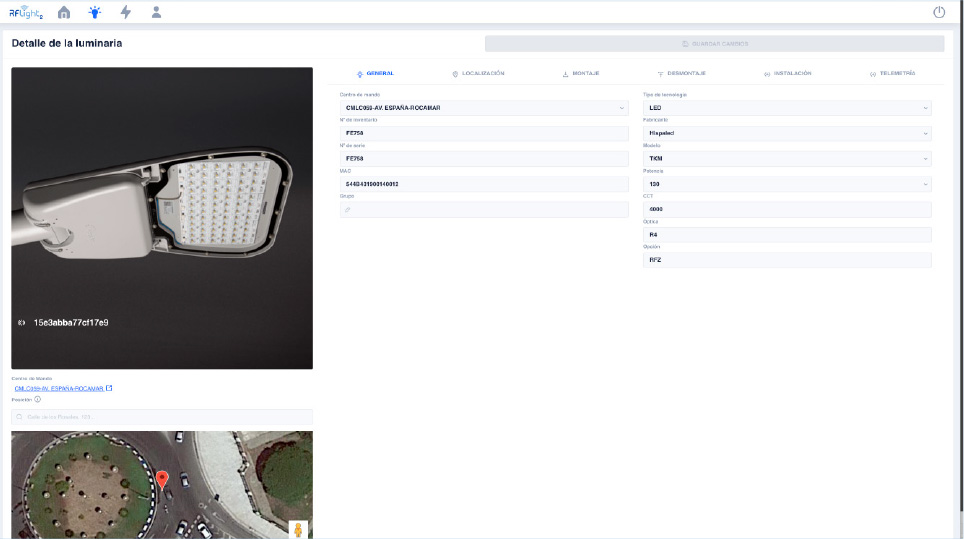 Luminaire control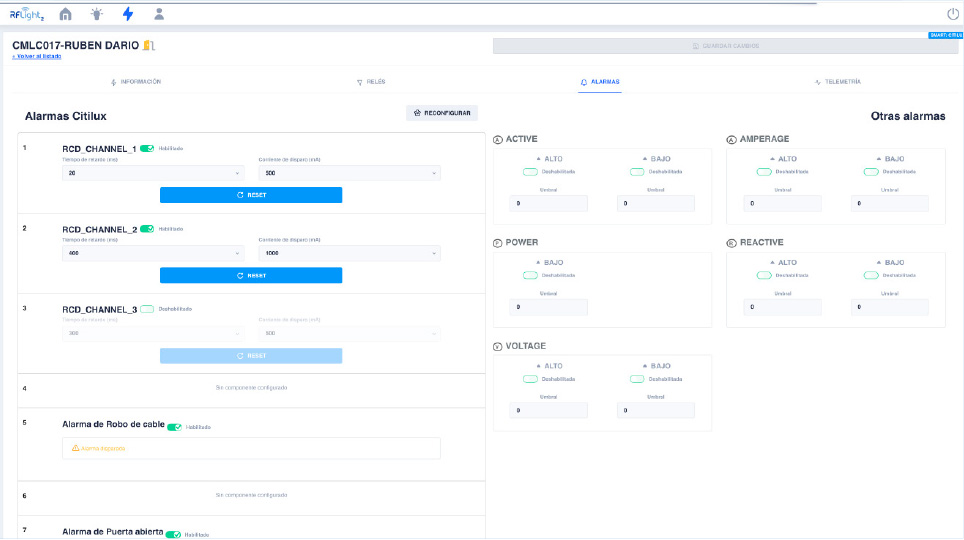 Frame control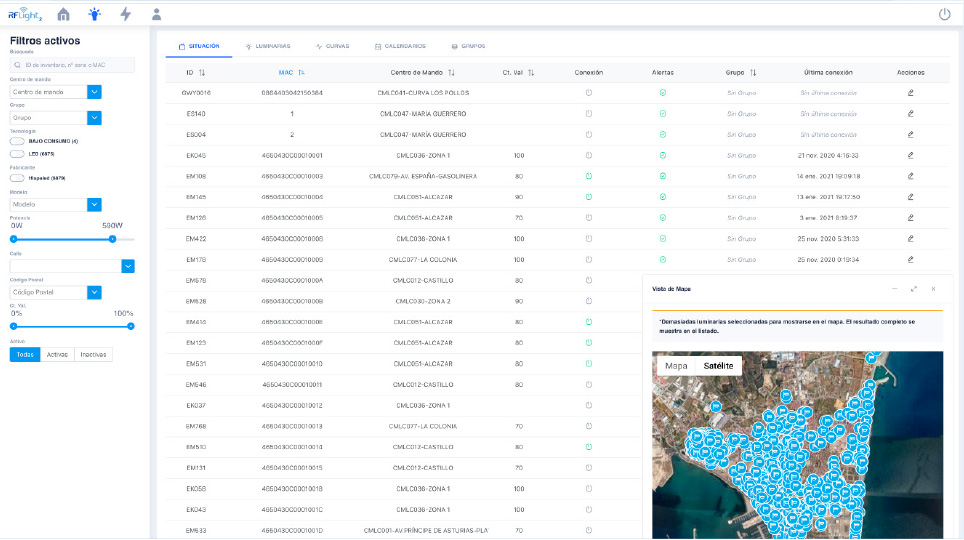 Maintenance Management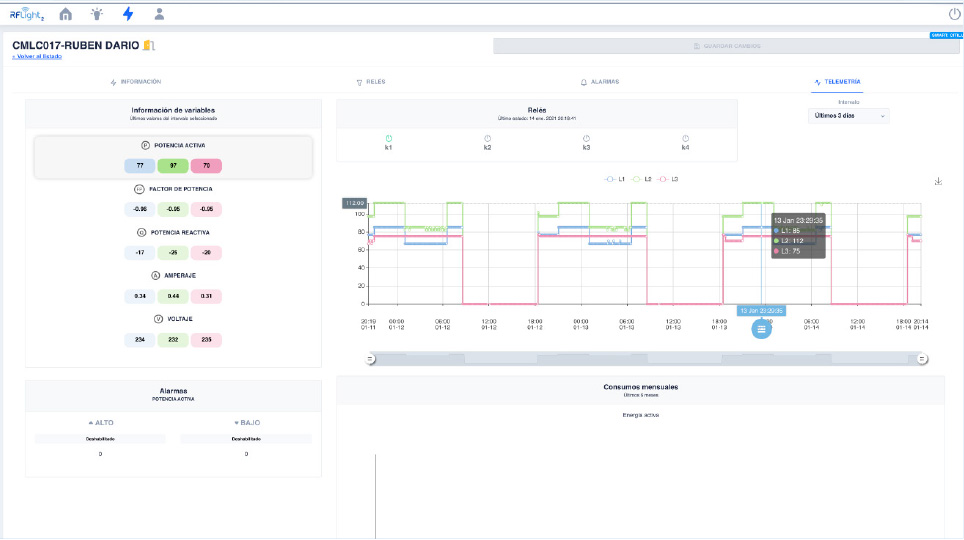 Reporting Tool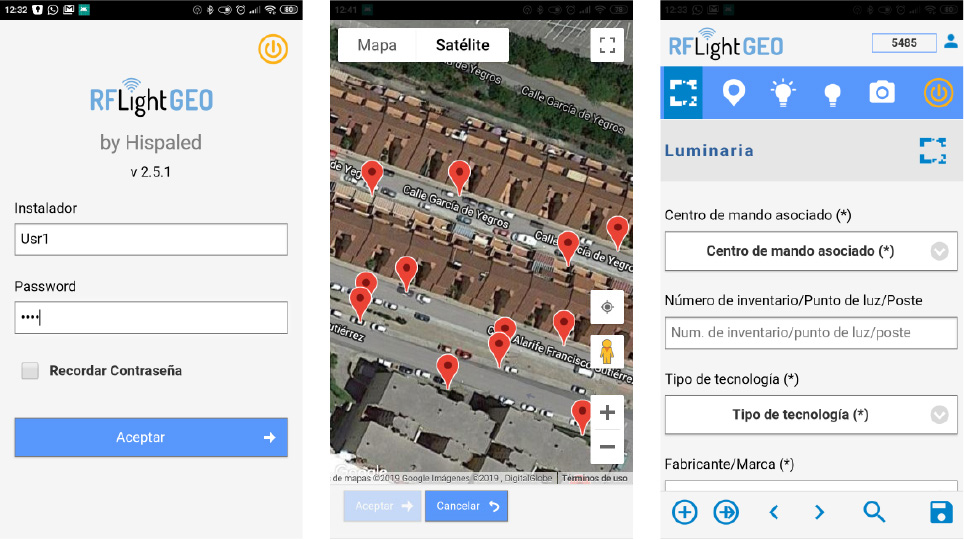 RFlight2 GEO Installation Tool
RFLIGHT2 WEB

, AN OPEN MANAGEMENT PLATFORM

RFLight2 Web is the centralization point for all Smart City data. Both the headends of the control centers and the nodes of the luminaires, as well as the RFLight2 Geo tool, send their data via standard protocols to the cloud, from where they are sent to the Hispaled platform. This is a unique feature of our products and our platform: IT IS A COMPLETELY OPEN ARCHITECTURE.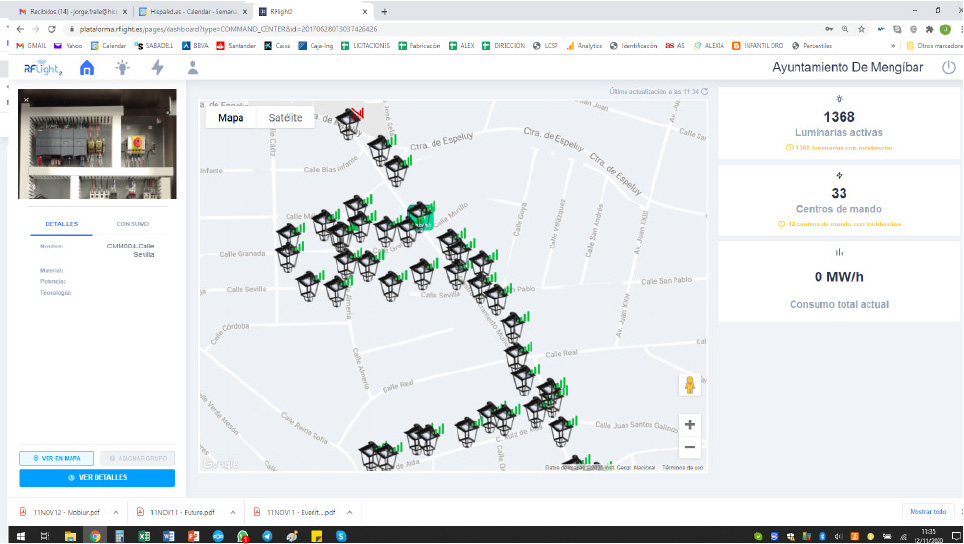 DATA AVAILABLE FOR ANY PLATFORM
We are convinced that any customer who wants to monitor and control their lighting system, whether public or private, can choose between different alternatives. Of course, not all of them from the same equipment or service provider. That's why we send the data to the cloud. So they are available to city managers from any platform.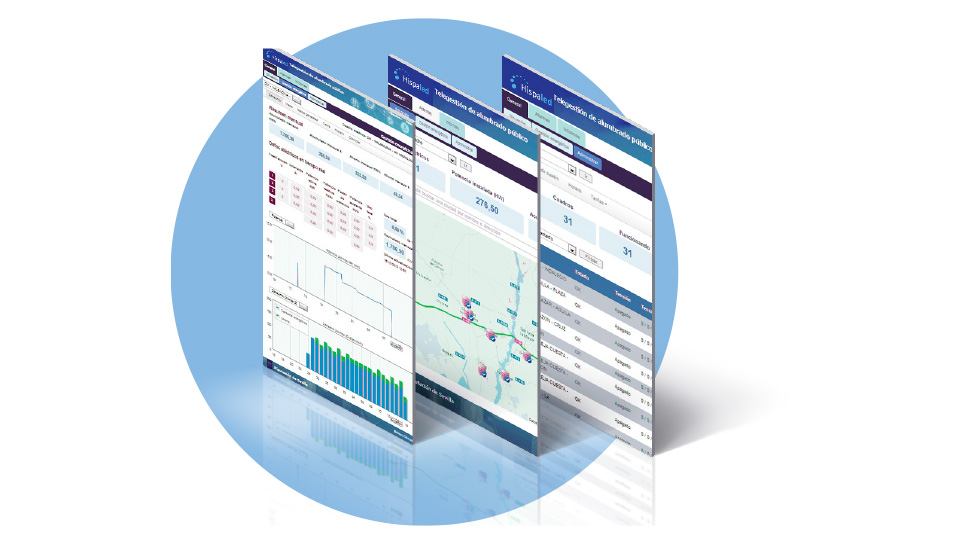 DATA INTEGRATION FROM ANY MANUFACTURER
Similarly, we are sure that many municipalities will choose the RFLight2 platform to control their lighting. But it is possible that not all luminaires or control centers are from Hispaled. We have a large number of success stories in which there are remote control units or luminaires from third parties.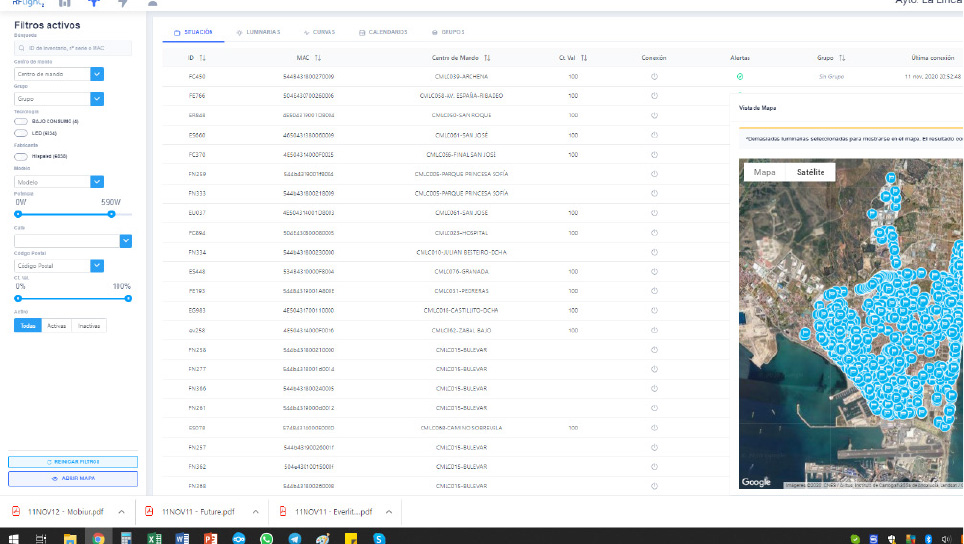 INTEGRATION OF OTHER ELEMENTS OF THE CITY
Currently, most of the manufacturers of data measurement equipment in a city have or will have Internet connectivity. For example, pollution or acoustic measurement stations, irrigation systems, car park occupancy, etc. can be incorporated into the RFLight2 platform.
RFLIGHT2 GEO:

APP FOR LUMINAIRE INSTALLATION, INVENTORY AND MAINTENANCE EQUIPMENT

The RFLight2 Geo system allows the capture, download and processing of information from any type of equipment, especially electrical, through any mobile device based on Android or iOS.

RFLight2 Geo is born with the vocation of:
- Eliminate a large part of the administrative tasks related to the installation of any type of equipment.
- To know, in an automated way and in real time, the status of the works.
- To provide monitoring and control tools for the teams in charge of the installation.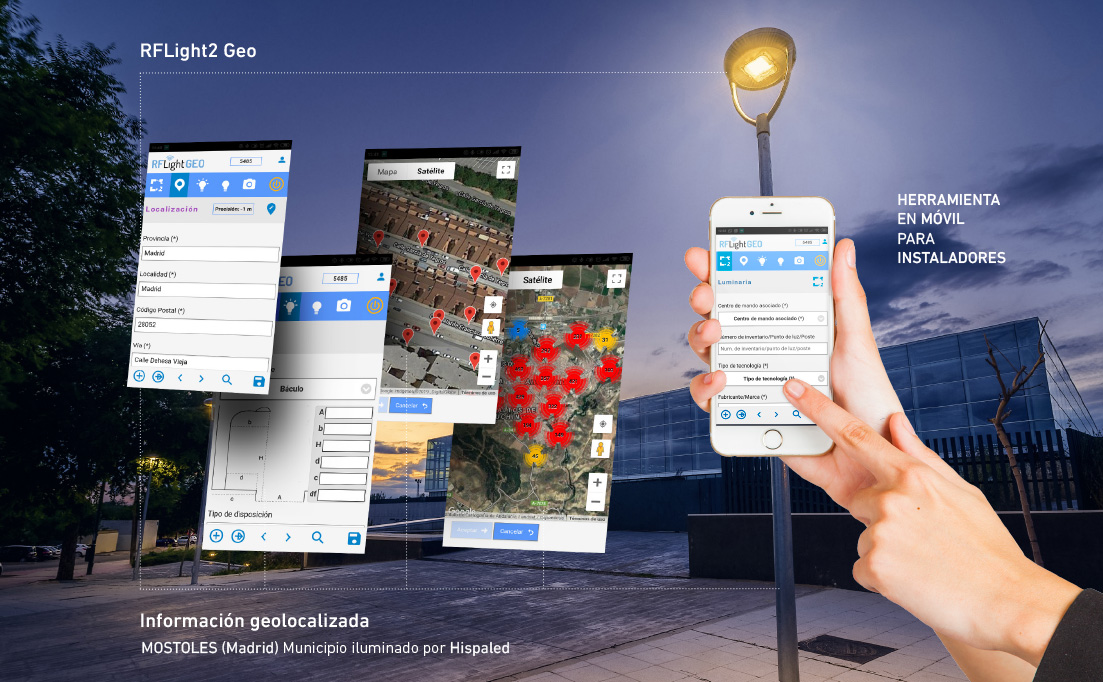 The system has a very simple operation: it is simply necessary to scan the QR code of the luminaire or node. In this way it is geolocated and included in a database. Optionally, the data of each location can be completed (height of the point, topology of the street, incidents, etc.).
The system includes:
- RFLight2 Geo APP for Android and iOS (available on Play Store and App Store).
- FIELD EQUIPMENT, consisting of a portable GPS device model Garmin GLO or similar and a 7" Samsung tablet or similar.